LED Philosophy
What is Binning on LEDs?
The term binning refers to the variations that occur within a single production batch of LEDs, such as chromaticity, lumen output and forward voltage. It is important that a specific bin has been identified and selected to ensure a uniform and consistently even lighting installation is achieved. Gitronica ensures the chromatic identity of its solutions by carefully and accurately selecting LEDs during the acceptance and coding phase and, subsequently, during production. If all LEDs were selected from a single production batch with selected bin and used in the same luminaire or installation, there would be an excellent combination of colour temperatures and perfectly identical brightness levels.
The CRI (Color Rendering Index)
The Color Rendering Index or CRI of a light source is an indicator of its capacity to realistically reproduce the colours of the objects it illuminates. The higher the colour rendering index (on a scale of 0 to 100) of the source, the better our ability to perceive differences in colour. For its solutions, Gitronica has made a choice.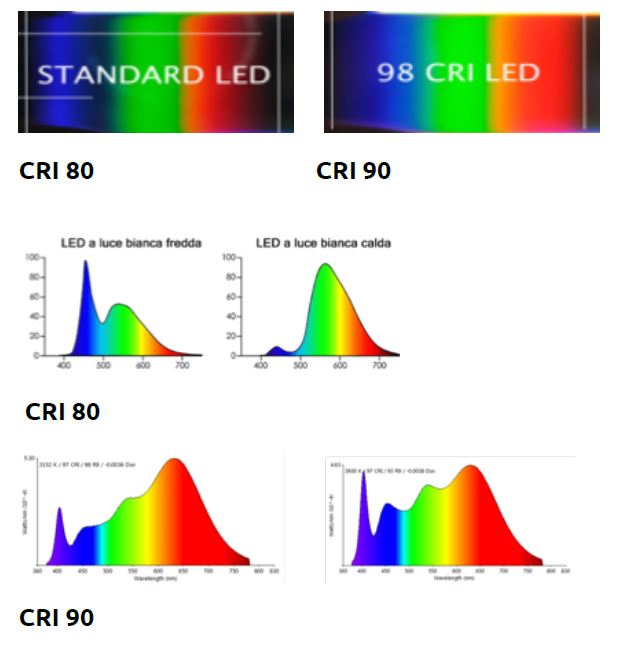 Colour temperature
Colour temperature is a characteristic of visible light that plays a significant role in lighting applications. The colour temperature of a light source is measured in units of absolute temperature: Kelvin (K), is the temperature of a perfect black-body that radiates light of a similar appearance to that of the light source. For its LED solutions, Gitronica uses every type of colour temperature in order to meet the specific needs of the various application markets.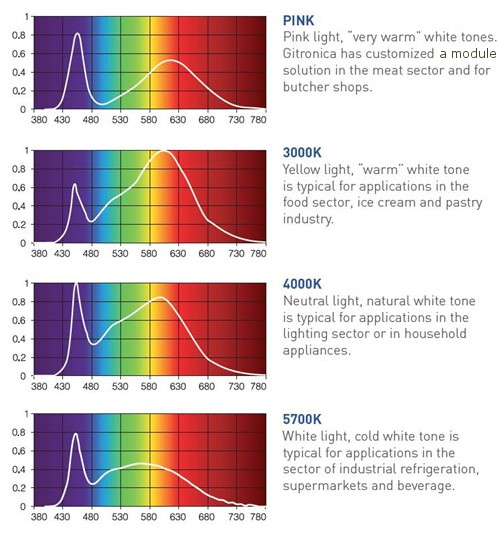 TUNABLE WHITE
The special feature of Gitronica's Tunable White LED solutions allows you to automatically simulate daylight models by adjusting the temperature and brightness levels of the colour in relation to the time of day, ensuring optimal visual comfort and colour rendering of the applications to be illuminated.
In fact, Tunable White Gitronica is designed to illuminate products such as fruit and vegetables, cheese or meat, ice cream or pastries. It has an innovative technology that allows you to activate the exact tones previously set through a manual controller by means of various colour temperature steps (from K3000 to K5700) or via APP on a smartphone with BT connection.
In other words, with a single device you can select the most suitable colour temperature for different types of food.
The control also allows a 10-100% adjustment of light intensity